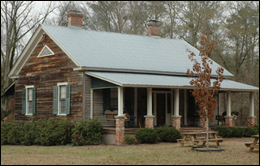 Historic and rustic accommodations make Charlane Plantation special! Great pride has been taken to make your stay here at Charlane Plantation a wonderful experience. The beds, linens, and furnishing have all been chosen personally by me. Some of the furnishing are family heirlooms handed to me by my Grandmother, Julia Faulk White. The Bullard House is on the National Register of Historic Places, and it is an 1835 farm house in its original form. I was even able to salvage some of the original paint in several of the rooms. Meals are prepared here by my wonderful co-harts that aim to please you time and again. We will be glad to work with you on any special requests. Scroll below and you will see the rooms that are available. Each one has a personal story that relates to our life here at Charlane Plantation. Come stay with us, Rose Lane Leavell
Daniel Bullard built this Federal Style farmhouse in 1835. He was the riverboat captain and a merchant running cotton to the Atlantic Ocean and returning with merchandise for his store at Bullard's Crossing. He had 5 wives and 15 children five of whom died in the Civil War. At the age of 93 he fathered twins by his 5th wife. The house has some serious karma. It remained in their family until l948 when it was sold to a timber company and laid empty for 52 years until Chuck and Rose Lane bought it. The renovation was long and arduous trying to keep the integrity of the home intact and unchanged. The Ocmulgee Room, Sitting Room and Bar area are all the original paint colors. The only change to the original house was a bathroom which was added around 1930. At the time is was a very elegant house. The fireplaces are heart pine as are the floors. All are original. A road ran from the Bullard House to the Homeplace. Thomas Francis Everett that built the Home Homeplace was his Grandson.
The Bullard House Lodge
The original barn at the Bullard House was torn down and incorporated in the new lodge. Trees that were harvested on the plantation were used in the construction; The Lodge has four bedroom suites and a very large Great Room with abundant porch space in front and back.
Bullard House Tour
Lodge Tour